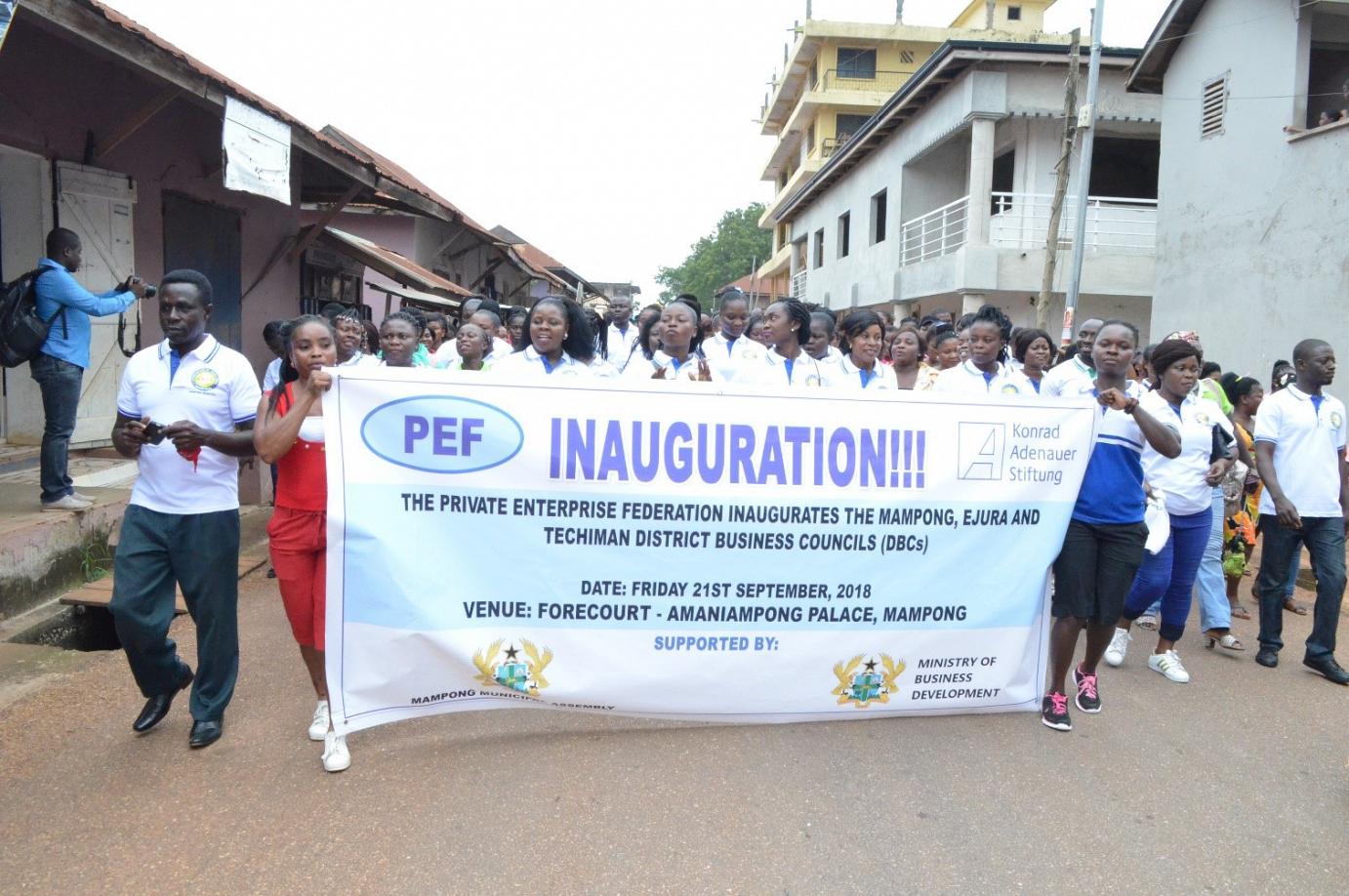 DBC members in a float through the principal streets of Mampong

The Private Enterprise Federation (PEF) in its efforts to influence and enhance the participation of local businesses in opportunities at their localities at the district levels initiated a project in 2016 aimed at establishing District Business Councils (DBC) at various districts across the country. PEF seeks to enhance the competitiveness of SMEs at the district levels through the formation of vibrant District Business Councils that will serve as platforms for private sector players to not only advocate for policy changes that will improve the enabling environment but also seek business opportunities within the districts for business growth. This advocacy action has led to the establishment of pilot District Business Councils in three (3) selected Districts (Techiman, Mampong, Ejura) which brings together a wider range of business groupings into a common platform at the district level to effectively advocate for recognition, dialogue and influence policies with the duty bearers.
The establishment of the District Business Councils will serve as viable networking platforms for advocacy and business incubation towards; Enhanced dialogue between the business community and duty bearers, Influence incubation and business growth at the district level, improve investment environment for businesses to grow within the respective districts and create jobs and wealth to alleviate poverty and stem the migration of rural population to the various metropolis.
Though these pilot DBCs have been in existence since October 2016, it became necessary for them to be officially launched supported by the Konrad Adenauer Stiftung; PEF was able to organize a single launch of the three (3) DBCs at the Asante-Mampong on September 21st, 2018.
The Special Guest of Honour was the Omanhene of Mampong Traditional Council, Daasebre Nana Osei-Bonsu II. The event was chaired by Nana Agyei Duku, the Nkosuohene of Mampong Traditional Council and Chairman of Ghana Union Assurance. Other invited guest for the event was the Chief Executive Officer of the National Entrepreneurship and Innovation Programme (NEIP), Mr. John Kumah who represented the Minister of Business Development, Nananom of the Mampong Traditional Council including Ejurahene and the Chief Executive Officer of the Mampong Municipal Assembly, Hon Thomas Appiah- Kubi who was a full partner in the organization of the event. The inauguration brought together stakeholders from Mampong, Techiman and Ejura including Nananom and faith-based organizations to demonstrate their support for the initiative. The Mamponghene offered himself as the first Chairman to steer the affairs of the collective District Business Councils to ensure its success given the potential benefits of a vibrant District Business Council to the communities. The event was graced by an exhibition from the Food Research Institute and Industrial Research Institute both of CSIR to showcase innovation in preparation of variety of food products using local raw materials. The Industrial Research Institute demonstrated its competency in renewable power generation at low cost from human faeces and waste. Participants were overwhelmed with these innovations.